CA (Chatered Accountant)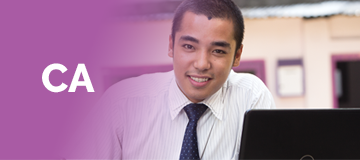 Chartered Accountancy is globally renowned professional course that provides scope in the field of accountancy, finance and management. Premier provides impressive tutorial classes to Chartered Accountancy Education Course under ICAN. It involves in-depth theoretical knowledge and practical training, imparting sound analytical and problem-solving skills to the students.
First leading college for CA.
Dual Certification course CA with BBS.
Extra classes for non-commerce students.
CA Course
CA course is challenging. Based on distance learning module, it involves in-depth theoretical education and practical training imparting sound analytical and problem solving skills to the students.
The course is divided into:
CAP – I – 6 Months
CAP – II – 9 Months
CAP -III – Three Years (including practical training)
How to become a CA?
After taking the course offered by the Institute passing its final examination and acquiring three years practical training, one can become a Chartered Accountant and member of the Institute.
CAP-I Level
This is basically for the students willing to enter in the professional CA course immediately after completion of higher secondary education (10+2, PCL, A Level or equivalent).
Eligibility Criteria
The candidate must have completed 10+2, PCL or A level or equivalent examination from recognized educational institution.
The graduate/Post Graduate who has scored not less than 50% in commerce and not less than 60% in faculties other than Commerce can directly apply for CAP-II Course.
(Note: For more details on CA course log on to www.ican.org.np)
CAP I ( foundation level) 6 months
Fundamental of Accounting
Mercantile Law
Fundamentals of Economics
Commercial Mathematics and Statistics
Management of Organizational Relations
CAP II (Intermediate level) 1 Year Course
Group 1
Paper 1: Advance Accounting
Paper 2: Audit and Assurance
Paper 3: Corporate and other law
Group 2
Paper 4: Financial Management
Paper 5: Cost and Management Accounting
Paper 6: Corporate and other law

Business communication
Marketing

Paper 7 Income Tax and VAT
FINAl (Three years course)
Group I
Paper 1: Advance Financial Reporting
Paper 2: Advanced Financial Management
Paper 3: Advanced Audit and Assurance
Paper 4: Corporate Laws
Group II
Paper 5: Management Information and Control System
Paper 6: Advanced Taxation
Paper 7: Advanced cost and management accounting
Paper 8: Strategic management and decision making analysis