BASW (Bachelor of Arts in Social Work)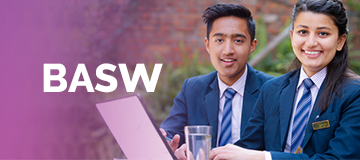 Pursuing and earning Bachelor's Degree in Social Work (BASW) provides the skills necessary to make the differences in the lives of others. It equips the requisite knowledge that makes a positive impact in the society offering the range of career options in social work profession.
250 Hours of fieldwork in social service agencies-I/NGOs and government organization.
Field visits, case studies, presentation, excursion, social leadership practices.
Scholarship for deserving students.
Eligibility
The candidates seeking admission to BASW must have passed + 2 or Intermediate or PCL from TU or from any other institution recognized by TU with the minimum of 50% aggregate marks.
Salient Features of BASW
This program provides with an opportunity to go for fieldwork in social service agencies for 250 hours.
BASW students learn to work collaboratively in a variety of settings and learn skills such as assessment, interviewing, service planning, case management, crisis intervention, problem solving, program evaluation, community outreach, community organizing, advocacy, research, and networking.
It has a standard class size of just 30 students with an ideal teacher-student ratio.
It includes regular seminars and workshops on relevant topics.
Formal tie-up arrangements with major social organizations facilitate the students to undertake and complete Course Work purposefully and effectively.
Examinations and Assessments
The final examination for BASW will be conducted by the Office of the Controller of Examination of TU. However, to qualify for the final examinations, the students will need a minimum of 70% attendance and presence in aggregate in all the Internal Assessment Tests including Class Work, Project Work, Class Test, and Term Examination.
Class Timing: 6:30 to 10 a.m.to 3:30 p.m. (regular Work Week including FOUR days of regular classes and TWO days of field work